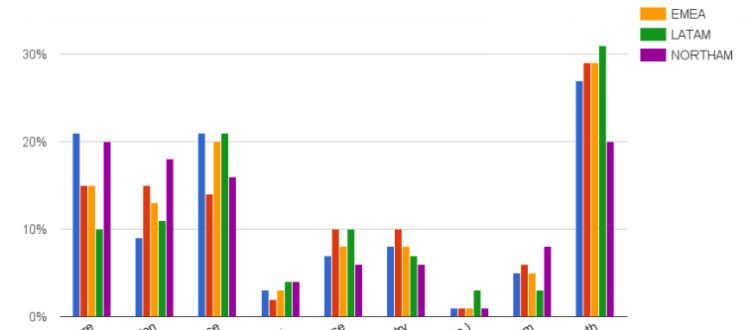 Global and local interests really match . . . for a change!
It's nice to see that the big guys (Hubspot) in inbound content marketing can bring us their validation of some of the key success elements we have been writing about in this blog for the past year. But let's also take a few minutes to put their findings into real B2B content marketing context.
Opportunities for growth are truly what moves marketing professionals to commit to andd energize a company's marketing initiatives. Please allow me to contextualize this with this key concept. For today's marketing team to be really effective, it must have senior, experienced leadership with the vision to see where the prospect is going.
A culture of winning requires a view of every action and every platform in harmonic resonance to deliver remarkable messaging and to make the customer happy to purchase from you.
Find your strengths. Use them to lead. Delegate all of the other stuff. And then be amazed with the results and team loyalty that results.
If you want to drill down, here's is the Hubspot blog post source.
http://blog.hubspot.com/marketing/job-priorities-international
Learn to build a bridge, sustain the value of a mentor mentality and keep the B2B content marketing momentum going while you devote the time and assets that results in a near flawless recruitment process and on ramp. Engage an experienced and talented fractional chief marketing officer or an integrated marketing agency that specializes in high-value FCMO services.
Here are three compelling reasons this is a savvy choice;
Engaging a fractional CMO assures consistent strategic view at the executive level.
Your FCMO also manages marketing projects and capably sources and engages with members of your team or other marketing specialists to bring the skill sets that you need to the projects at hand.
Tap FCMO expertise, experience and knowledge for much less than a full-time salary position with a benefits package.
And while you are popping a couple of Tylenol to diminish the pain of not-so-great marketing hires and the disconnect between you and your customers, you can choose Fractional Chief Marketing Officer (FCMO) services or Concept to Content (C2C) services that deliver real, measurable value and underscore the culture you are building. And an exceptional team that delivers exceptional customer experience.
We can show you how. We do it. We have the case studies that tell the story.
Remarkable team . . . The Slade Group. Reach out and let us respond.