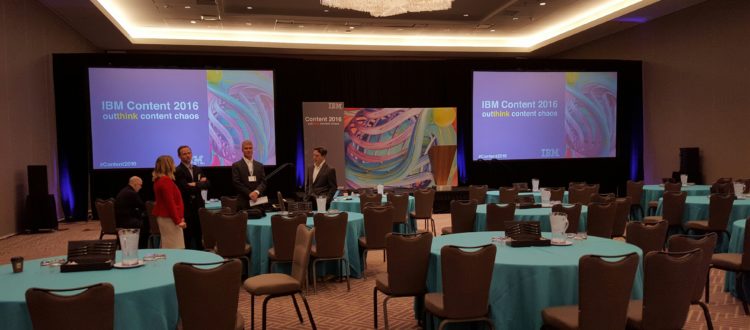 Content marketing is an exciting field today.
Successful B2B content marketing needs both creativity and an analytical mind.
IBM is a really good example in 2016. They have adapted their content to the media and channels their prospects and customers use.
Recently, I attended the IBM 2016 Content Conference in Austin, Texas. It was subtitled – out think content chaos! And the presentations stayed true to both their educational mission and their use of the right media to make a point and deliver memorable takeaways.
Video – especially their new "Secret CEO" series. It gives the audience a true vicarious experience to show how work process and blockages show up to the detriment of the customer. And, of course, how IBM platforms can manage enterprise collaboration management.
Infographics, charts and graphs – that deliver pertinent data in visual story form.
Presentations – on stage, they punctuate and moderate the information and story flow.
Their teams have developed a top – notch marketing program, based on educational content. This is definitely a smart choice given that they have decades of experience with highly complex products, platforms and services.
IBM has done an amazing job by building relationships with key influencers, who already have huge followers base. The latter point was key to their success, even if other strategies have played a significant role too.
The key lesson here is that brands must not ignore powerful voices outside their company.
Reaching out to various influencers and building relationships means that there will be authoritative and credible people advocating for your brand publicly.
If your content marketing team does not have the talent to meet this challenge internally, it could measurably benefit from partnering with a content marketing agency who does have digital and social media experts and who can help get the social interactions out of silos and into the mainstream of marketing data and analytics.
Smaller and middle-market businesses and their leaders/owners are really bogged down with this and are well served to bring in a digital marketing agency with the talent and expertise to make B2B content marketing fun and profitable.
Subscribe to our upcoming posts on the details of B2B content marketing and media working together. We can keep you on the B2B content marketing effectiveness and sustainability best practices path. Or get you on it. And the right data to analyze.  We get you there with a measurable ROI.
Email us – info@sladegroup.com or call us – 512 799 4676. You'll be glad you did!