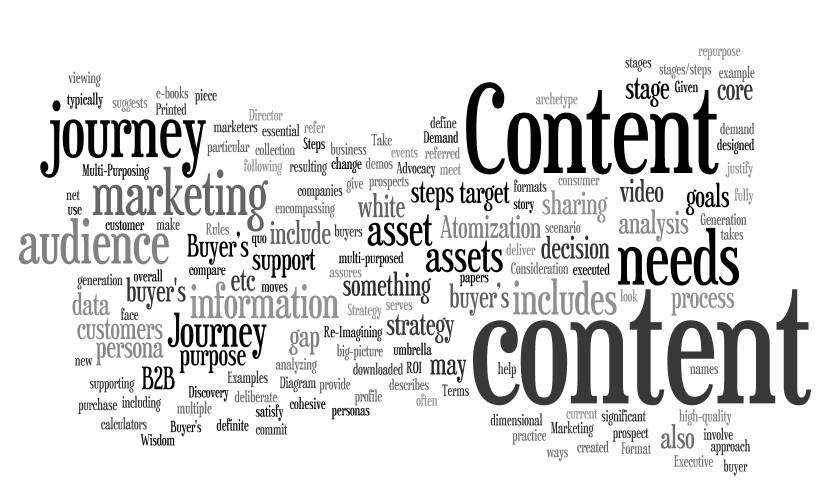 All of the great stuff flows back from your buyer persona and content strategy.
They are aligned. And once you have that demographic and psychographic profile of your ideal customer or client, your measurable results flow.
The content model comes first.
When you make B2B content marketing decisions, lead with strategy. Let technology follow.
The concept is simple. Unfortunately, as most marketers know, assessing content performance in a way that makes sense is tricky. Metrics that are easy to come by ("likes," shares, etc.) often tell us nothing of value.
The only measurements worth pursuing are those that answer questions of value to the business.
Start with the end in mind. What answers are you looking for? Look for numbers that can get you there.
If you can personalize your content in a way that people will appreciate, and if you can justify the expense, plan it and give it a try. Otherwise, save yourself the headache.
The topic of content modeling – a practice which really is a "secret sauce" – is too big to cover in detail in this post. Here are the main things to know to get traction:
Content models are simple. You could draw them on napkins.
They can take whatever form the team finds helpful.
They help people across departments see how the organization's most important content types fit together.
They help people make – and then communicate – strategic decisions about content.
B2B content modeling isn't a phase. It's an ongoing part of the care and feeding of an organization's content. If you do it, make a sustaining plan.
Our customer experiences rule.
Each of our purchases, yours and mine, are made to make us feel good.
While many marketing conversations focus on customer's needs, the vernacular has been shifting. Instead of simply thinking about our customers, the conversations revolve specifically around experience. And while it may seem like a subtle difference, looking at everything we do under the lens of experience helps make what we do customer-focused.
Small business, middle-market fast growth or enterprise companies on the way to being a category leader, each need a content strategy, a seasoned, successful guide and a team that can show they are both agile and mobile. Use the right data and metrics that works for you. Let the technology follow.
Real and high-ROI solution – find a talented, accountable and seasoned marketing professional who can be your guide, coach, teacher and implementer.  Yes, it takes some persistent effort. Yes, it's more than worth it with a measurable payback.
We can get you and keep you on the small business B2B content marketing effectiveness and sustainability best practices path. We deliver a measurable ROI. You get the benefits!
Email us – info@sladegroup.com or call us – 512 799 4676. You'll be glad you did.